An evening after an extremely hard fought win against Dallas and a fog delay which delayed their flight until this morning, the Blue Jackets took to the ice against a very strong Minnesota Wild team. Before they even arrived in St Paul, I had a sneaky suspicion that their previous twenty-four hours would degrade their effort on ice, but as a Jackets fan, the best thing we can do right now is be optimistic. This rings especially true with this group of players who we were told would be extremely hard working.
Fortunately for viewing entertainment, Columbus came out of the gate strong, controlling the play early on and forcing the issue deep into the Minnesota defensive zone. While the scoring chances were not piling, the opportunities were, and felt like it was only a matter of time before they struck. Tack on a Minnesota netminder in Backstrom who was handing over juicy rebounds all game, and it felt like the Blue Jackets faithful would be well on their way to the first win streak of the year.
But a thirty minute gap between the middle of the first period and near the end of the second period caused optimism to halt. Scoring chances, or even possession in the offensive zone seemed to become a premium for the Jackets. Goals by Koivu (sneaky goal from behind the goal line) and Gilbert (unfortunate off a block directly onto his tape — where was the Blue Jacket coverage again?) put Columbus in a familiar two goal deficit heading into the first intermission.
From there, Steve Mason put on a show. Making a number of top tier saves, some caused by being positionally sound, and some by smartly taking away the angle, he gave the Blue Jackets a chance to get back into the game (including a huge stop on the penalty kill and a wrap around by Parise that I thought was an easy goal). Sadly, they could not muster even a single shot on goal in the first eleven minutes, and finished the second frame with a mere three shots. Fortunately, one of those came off the stick of Mark Letestu, scoring his second of the season (which now, ridiculously, ties the team lead). I will have plenty more on Letestu and his linemates shortly.
The third period finally found life for Columbus. Strong offensive possession fueled two penalty calls, and while the first powerplay was abysmal, the second found pay dirt early with a wrist shot by Jack Johnson through traffic. The period included eleven shots from Columbus and only three from Minnesota, but this time, it was Minnesota finding the back of the net despite the limited number of shots. Bouchard slid past a sprawling Tyutin on another bad turnover and beat Mason clean high glove. A great shot, and while it was a save you would love to see Mason make, I don't take away anything from his performance on account of it.
With the outline told, let me go into depth on a few bits and pieces that are not as black and white.
First, Steve Mason. I have long since passed my prime as a Mason apologist. I believe the club will be done with him in some fashion at the end of this season  and I don't really feel the need to defend him. However, this game was another prime example of how his statistics and support simply do not offer a fair assessment of his on ice performance. With his save percentage at .885 (23 of 26 saves), many would believe he played poorly, yet if you took the time to watch the post game, you come to find out that he was in fact the key reason they had a chance to come back in the game. Quotes from Dubinsky, Letestu, and Richards flooded twitter noting that Mason deserved better, that he kept them in the game, and that it would have been ugly without him in net.
I believe all you can do in this league, with talent being as high as it is, is ask your goaltender to give you a chance to win, especially one that is not paid as a premier goalie. The Jackets got that from Mason tonight, and it was great to see.
With respect to a potential head injury to Nikitin, I am going to withhold judgment on the state of the Blue Jackets defense, and simply hope he can recover quickly. I was going to ask for some line shuffling, and while this was not what I had in mind, I expect to see a new face in the lineup come Thursday. Hopefully that includes a shake up of all three pairings, as some deserve the promotion to additional minutes (I'm looking at you, John Moore).
Now, the final thought. The big one. The "are you kidding me?!" thought of the game:
The fourth line. I believe for much of the game it was Gillies, Letestu, and MacKenzie, with Boll getting some time with them as well. They consistently outworked the rest of their offensive teammates. It was so blatantly obvious when these four were on the ice that all I could do was laugh. The other 'top line' players are professionals, and yet they are being outclassed by guys who make a fraction of their salary, and play with a fraction of their talent.
I was going to put together a separate piece in which to discuss an awesome sign that keeps showing up in the Columbus pre-game video: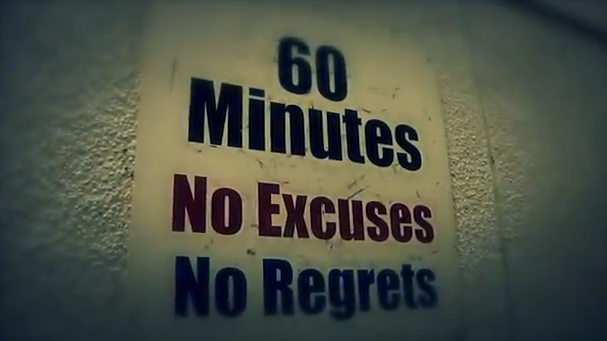 "60 minutes. No excuses. No regrets." Have we seen sixty minutes from this team yet this season? Todd Richards said they played thirty minutes tonight. On their trip out west, they maybe played thirty minutes combined between the two games. Certainly their games against Nashville and recently Dallas were better, but were they sixty minutes?
This is a sign I am going to drag with me until this team is atop the Western Conference. With any rebuild, fans should grab on to whatever positive they can, and this sign will be mine. I will bleed union blue, but I expect these players to do the same. If not, I hope the front office starts making phone calls. This team CAN win games if they are the hardest working club in the NHL. There is no question about it. And yes, I am looking at YOU, RJ Umberger.
Welcome to the new age.